Lining the boards
Cutting and folding the liner
UPDATE: I've decided I don't like this method and I'll probably update the site to show a new way soon. To summarize the alternative, I prefer to tip on the end papers right after sewing. They will be cut to fit when the book block is trimmed, eliminating the fussy razor blade work described below.
In this example, I combine the board liner with a protective endsheet cut from one piece of decorative paper. The loose page is cut oversize so it can be trimmed later to fit the book block exactly.
The board liner side may be cut to the book page size now.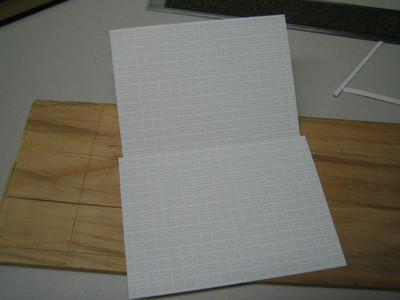 Cut out endpaper/boardliner
Center the liner before folding
Before folding the liner, check the fit against the inside cover. When you are satisfied that it is centered, make the fold. Because of small errors in the square, the loose page may not be perfectly aligned with the book block. That's why it was cut oversize.
Attach to the book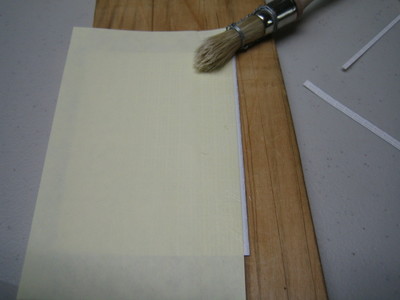 Glue inside edge
A 1/16" stripe of glue is applied to the edge of the folded endpaper where it will attach to the inner edge of the first endsheet. (The oversized page of the liner is the one being glued.) Use a disposable barrier sheet to expose only the 1/16 inch.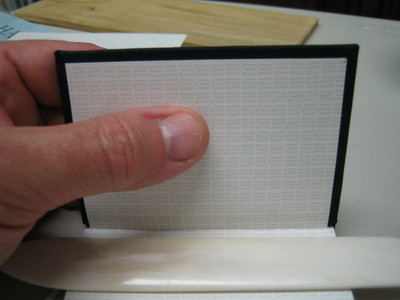 Attach to book block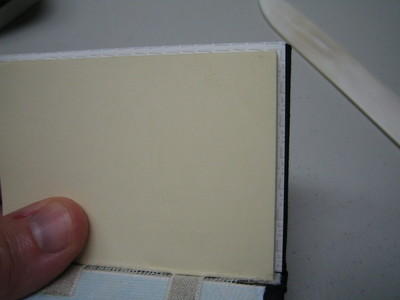 Overlap for trimming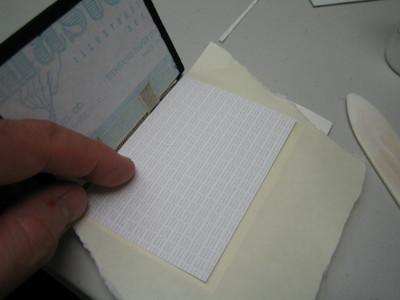 Prep for gluing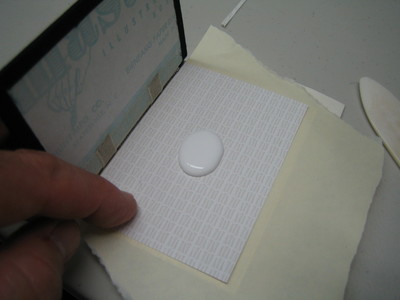 Glue board liner to cover
Spread the glue on the outside of the endpaper using a brush. Use a waste sheet under the endpaper to protect the book.
Close the cover to attach the endpaper, then open it again and rub down with a clean waste sheet. (Not shown.)
Pressing and drying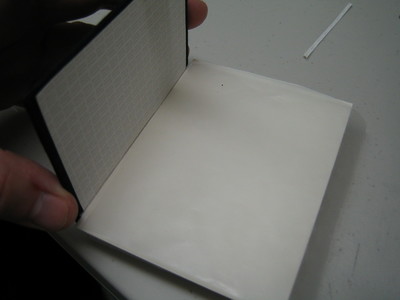 Protect for pressing
As before, use wax paper and a thin stiff board between the front and back covers.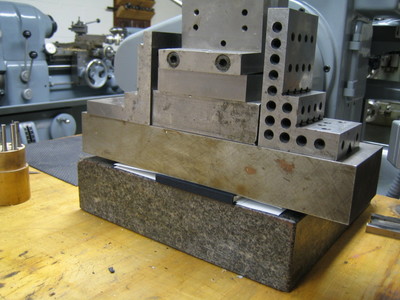 Press overnight. I really need to get a press.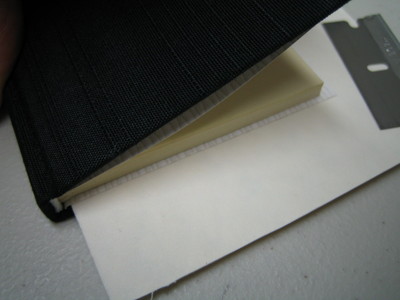 Trim endpapers
Using a razor blade and a thick backing sheet to protect the book, cut around both endsheets so they are flush with the book block.
Next: Finishing
Back: Apply the cover
Top: Bookbinding